It's blue, it's marbly, and it's a fancy word to toss while bantering amongst your foodie friends. Gorgonzola is one of those cheeses I've overlooked. Associating it with the melted goo that comes with pizza and wings has always been the first thing that comes to mind. Since then I've branched out and nurtured a new love for gorgonzola. I've found it's creamy, sometimes crumbly, and often tart. But what can we do with it other than throw it in salads, mix it in pasta, or melt it on wonderfully crusted bread?
I've only been recently exploring gorgonzola, mainly because I'm obsessed with Port Salut and Trader Joe's Syrah-soaked Toscano, and I hardly stray away from a good cheese. The last time I decided to be adventurous with cheese, I couldn't finish it. I drenched it in honey, tried to chase it with a mouthful of everything crackers thinking my tactics would somehow smother its pungency. Unfortunately this wasn't the case, and I was out 8 bucks for a small wedge of beefy cheese.
That being said, I thought I'd highlight gorgonzola's more unconventional uses and its versatality to be used in every meal, perhaps even in a dessert. Let's let gorgonzola melt over every course.
Appetizer: Gorgonzola Truffles 
These succulent lovelies are a dream on their own. With its crusted porky case, mixed with the cream cheese and the kick of the Worcestershire, this truffle is like no other and is a perfect, not to mention aesthetic, start to any meal.
Main Course: Prosciutto and Gorgonzola Manicotti
Traditionally manicotti is stuffed with sausage or sans sausage and then folded in a 3-4-or-5-cheese mixture. Prosciutto, alone, adds a new texture and refreshing level of saltiness to attribute to the creaminess of the gorgonzola in this twist on manicotti. I didn't find a recipe for this, but I typically use this recipe and then swap out one of the cups of grated parmesan with crumbled gorgonzola.
Dessert: Spiced Pear, Gorgonzola, and Toasted Walnut Pie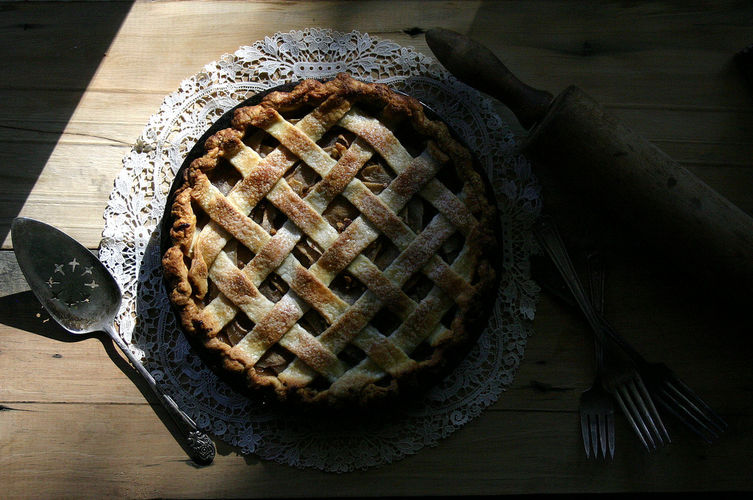 The spices and barely there sweet notes behind the pear make up for gorgonzola's slightly sharp after taste. I'd serve this up with homemade ice-cream. Better yet, why not a gorgonzola ice-cream?