Today, I'm all about solving problems that don't exist. Such as: "I love food, I have nothing to wear, and those things are definitely related!" Or: "For legitimate REASONS, I need my neighbors to think I'm insane but opening my mouth is too much effort." In any case, if you've ever needed to wear your heart (more precisely, your feelings about glorious, golden French fries) on your sleeve–literally–you can, thanks to the Internet. Sweet, sweet Internet: insomniacs and Lovers of Ridiculous Things thank you every day (sometime around 2:45 in the morning). Without further ado, here are some of the best (and by "best" I mean absurd but awesome) food-themed clothes and accessories I've found thus far. Wear them one at a time to start an everyday conversation, or all at once to start a "We all love you and is everything okay?" conversation.
Let's start with your head. It's fall and your cold little noggin could use a cupcake hat, right?
Oh, and here's a scarf to match!
Also–not because a man couldn't exquisitely rock a cupcake hat, mind you–something more unisex: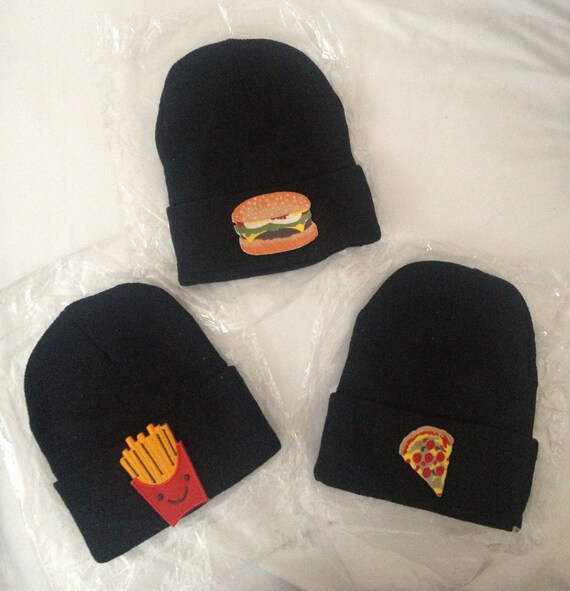 Accessory-wise, there is no shortage of food-themed polymer clay earrings. Etsy is 84 percent polymer clay earrings (true fact I made up). For example, if you must display your Funyun love: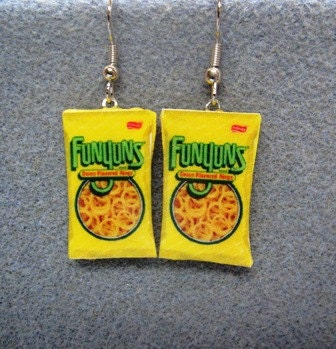 …And leeks. Not exactly a trendy vegetable–see what I mean? Literally everything is an earring in Etsyland.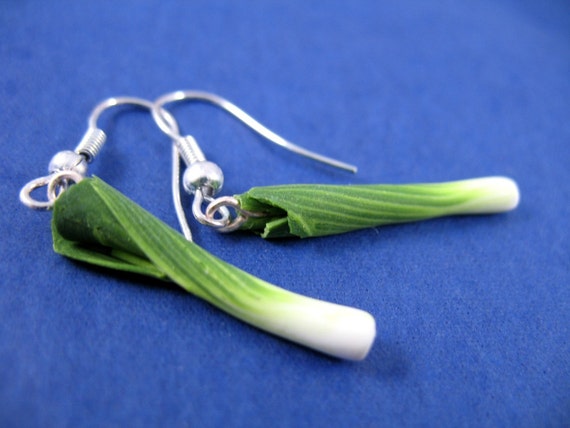 Cufflinks are less abundant, but equally important, and with the holiday season coming up, you may want to consider these sandwich ones for yourself, or another pastrami lover in your life. Unless he's the guy demanding 300 sandwiches. Fuck that dude.
Speaking of, how many sandwiches does a fair maiden need to make for this sweet, sweet hamburger ring?
Meanwhile, this ice cream sandwich iPhone case actually looks incredibly appetizing.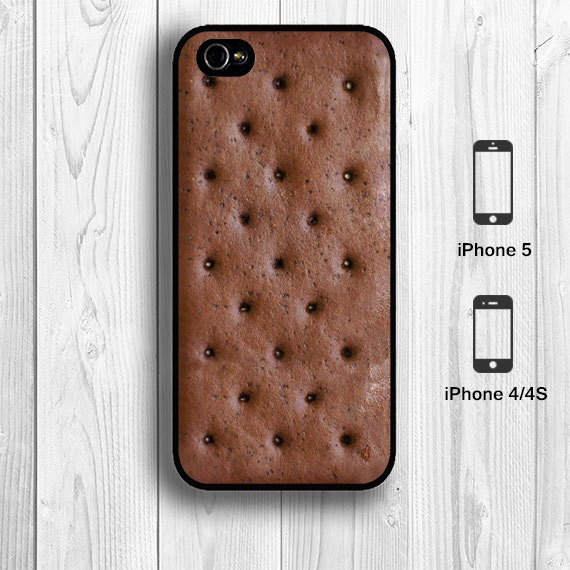 Now that we have sufficiently accessorized, before we forget to actually get dressed (happens all the time), let's move onto clothes.
Purveyor of all things quirky, ModCloth, has you covered with a hot dog polo shirt:
Layer it under this "snack attack" sweatshirt, 'cause October weather, amirite? Unpredictable little sucker.
Leggings with ice cream sandwiches and cats:Just in case people didn't hate leggings enough already.
And look at this sandwich dress! I would absolutely wear this, while making my own sandwiches like an adult (I'm sorry you guys, #300sandwiches feminist outrage, it spilleth over). Sick dress, though, right?
Also, this fries sweatshirt. You can practically smell these, right?
It would go perfectly with these clever fries socks. Anything can be merely printed on a sock, but this is some next-level business.
And because we all know clothes are only clothes-deep (or something) and what's underneath matters too, here are some mentionable underthings for your consideration. Such as stud muffin boxer briefs:
Also, pizza on your underoos. Because you are a person, and therefore definitely like pizza.
Sriracha + Star Wars: almost as universal.
If you want to take this madness further and adorn your home, behold! Insanely cute waffle pillow.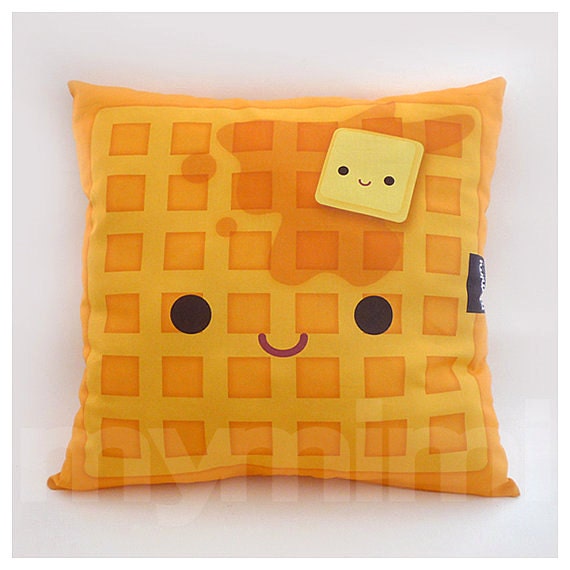 And finally, for your leisure time needs: a pretzel pool float! Summer is over, but "I have a rockin' new pool float that's shaped like a pretzel and it's even got salt crystals on it and the world needs to see it" is a perfectly legitimate reason to buy plane tickets somewhere warm.
There. You look so awesome.
_________________________
Sign up for our newsletter to have the best of Food Riot delivered straight to your inbox every two weeks. No spam. We promise.
To keep up with Food Riot on a daily basis, follow us on Twitter or like us on Facebook. So much tasty goodness–all day, every day.