Last weekend, I found myself face to face with a dilemma—I had can of sweetened condensed milk open, butter melting on the stove, flaked coconut and chocolate chips at the ready, and a bag of Teddy Grahams to be turned into crust. All the fixings for magic bars for my boyfriend and his roommate in their new apartment. And then this happened:
"Hey, where's your rolling pin?"
"Oh, I don't have one."
"What!?"
Up until this point, throwing graham crackers into a Ziploc bag and taking out my frustrations with a rolling pin had been an integral part of making magic bars. A younger me would have sighed, plastic wrapped the condensed milk, and resigned myself to making magic bars next time (and sneaking chocolate chips straight from the bag until then).
But not me now. I was battle-hardened from four years of college dorms, two of which only had woefully equipped communal kitchens. I looked into a teddy graham's beady little eyes, straight into its soul.
"Oh no, my friend. Today, you die."
I walked over to the fridge, grabbed a 24oz Stella one of our friends had left from the housewarming party, and proceeded to pulverize some anthropomorphic graham crackers. It was a tasty, tasty massacre.
The Stella's long gone, but I've since rolled out scallion pancakes with a well floured Sigg water bottle. Very rarely is lack of the "proper" tool (which happens a lot when you're cooking in a strange kitchen, especially the brand new apartment of recent graduates) a reason to abandon meal preparations. And while it's pretty easy to think up some of this stuff on the fly, here are a few of the most useful substitutions I've found:
Pastry cutters: Who the hell actually has pastry cutters? I've worked in a bakery for four years and I still don't own a set. The people I know that have them only use them for ring molds to make their egg sandwiches fit on English muffins (which is genius, I won't lie). Glass tumblers or wine glasses are perfect, and chances are most kitchens have them.
Steamer basket: I guess if you don't want to roast things in bacon fat, steaming is a good option, and if you don't have a steamer, you can always throw a colander over a pot of boiling water. (Conversely, a steamer basket will make a pretty kickass colander).
Bottle opener: Being in college taught me a lot of ways to open a beer sans bottle opener. You can use another bottle to do it: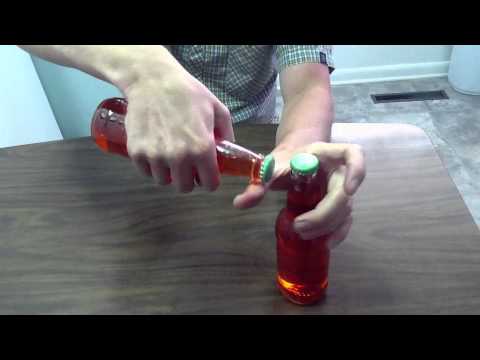 Or brace it against a sturdy doorjamb or windowsill and whack it with a hefty hardcover (Jonathan Franzen's Freedom was always a favorite)
Vegetable peeler: You'd probably be surprised at just how many fruits and vegetables (including kiwis!) can be perfectly peeled with the sharp edge of a teaspoon.
Giant mixing bowl: Sometimes you're trying to feed an army in a 2'x2' kitchen. Grab the roasting pan (blow the dust off it if the last time you used it was Thanksgiving) and use it to mix that giant batch of ziti.
Cheesegrater: Pre-shredded cheese is a joke (and an expensive one). Cooling racks for baked goods, or a clean oven rack, can grate cheese in a pinch.
Cupcake liners: Pssssst, here's a secret: you don't need these at all. Oil your cupcake pans, and fill two divots per tray with water instead of batter. You're all good. (However, if you don't have a cupcake pan, you can buy foil liners and bake cupcakes perfectly well in just those on a baking sheet).
Corkscrew: Not everyone has corkscrews. Everybody has shoes.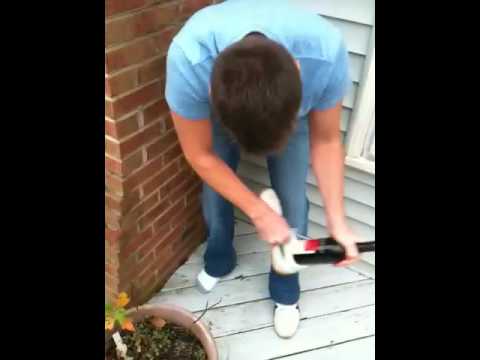 Cocktail shaker: All you need is a mason jar and two lids. Poke holes in one of the lids with a screwdriver. Use the regular lid to shake, and the holey one to strain. Boom, martinis.
Panini press: If you don't have a George Foreman, you can also heat two heavy pans on the stove. Start grilling the panini in one, oil the bottom of the other, flip the panini, and stick the oiled pan on top.
Pastry brush: You say "basting brush", I say "aromatic bundle of herb".
So those are all my secrets, Rioters. Do you have any improvisational strokes of kitchen genius?
______________________
Sign up for our newsletter to have the best of Food Riot delivered straight to your inbox every two weeks. No spam. We promise.
To keep up with Food Riot on a daily basis, follow us on Twitter or like us on Facebook. So much tasty goodness–all day, every day.