There's no small number of great food films out there, from the artistic to the quirky to the romantic and back again. It seems there's no shortage of culinary goddesses to grace our screens, creating a new archetype of culinary heroine:  the Kitchen Witch.
The Kitchen Witch is beautiful, charming, interesting, and sensual. She knows how to cook, and she can make weird things happen when she gets in the kitchen. Here's a list of some of my favorite Kitchen Witches, ladies who will cast a spell while they cook and have you singing "Witchy Woman" in no time.
Jenna from Waitress

Jenna, played by Keri Russell, is in a crappy, loveless marriage and also happens to be a "pie genius," creating magical, quirky pies like "I Hate My Husband Pie," "Marshmallow Mermaid Pie," and "I Can't Have No Affair Cause It's Wrong and I Don't Want Earl to Kill Me Pie." She finds herself pregnant and then falls in love with her doctor, who has a bit of a waitress fetish. She casts her spells in a pie plate, transferring her emotions into creative pies, drawing the world to her one slice at a time, changing her life along the way.
The Owens Women from Practical Magic
Really, what is a spell but a recipe in disguise? The witches in this film (actual witches, not just the kind I'm creating here) cook up everything from impromptu toast to midnight margaritas to memory-erasing syrup, along with spells for men who couldn't possibly exist and protection for children. In the climax of the film, the witches pair with women from the town to cook up a soupy concoction to bind the soul of Jimmy Angelov to the grave and stop him from tormenting Gillian (Nicole Kidman).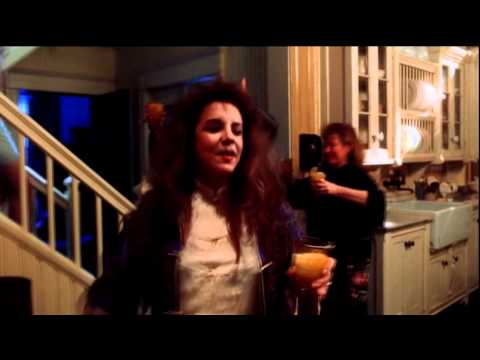 Tita from Like Water for Chocolate
Tita, the youngest daughter of Senora Elena, is destined to spend her life taking care of her mother, and is therefore robbed of the man she loves, Pedro, and is made to cook for him after he marries her oldest sister, along with the rest of the family. Eventually, Tita discovers she has the power to transfer what she is feeling into what she cooks, and in this way, she is able to communicate with Pedro in secret, sharing her love through her food.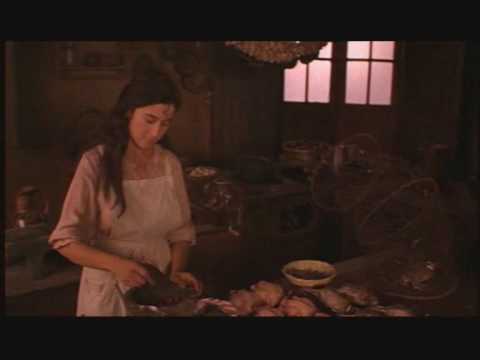 Amanda Shelton from Simply Irresistible
Amanda Shelton (Sarah Michelle Gellar) is a mediocre chef whose true culinary skills come out once she gets a magical pet crab helping her out in the kitchen. In this (let's face it) light beer American version of Like Water for Chocolate, Amanda finds she can transfer her emotions into her foods, sending eaters on an emotional roller coaster, course by course. While this film doesn't pack the punch that Like Water for Chocolate does, I do like Sarah Michelle Gellar in it. I liked her slaying vampires, and I like her making eclairs.
Vianne from Chocolat
Vianne and her daughter move to a very small, very Catholic town in France, and Vianne stirs up quite a bit of trouble with her chocolate shop. It's not long before she's doing more than just selling chocolate; through her sensual, intuitive brand of chocolate-selling magic, she brings down rage from the local priest as well as many families, and things go from bad to worse when she befriends a bunch of gypsies at the river and takes in an abused woman. But Vianne has a gift for knowing the right chocolate for the right person, proving that food is about so much more than just picking a flavor and eating it.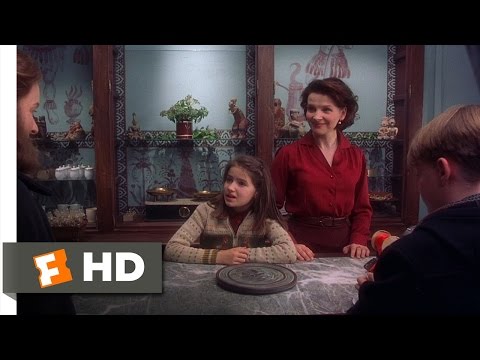 Ana Pascal from Stranger than Fiction
Ana Pascal bewitches IRS agent Harold Crick, coming into his life as he begins to hear the voice of a narrator who is telling the story of his life, including his pending demise. Ana not only casts a spell with a particularly good chocolate chip cookie, but then further seduces Harold with her foodie word sex (read as:  list of recipes delivered in uber-sensual husky smoker's voice). Through falling in love with Ana, Harold finds new reasons to live and makes his life matter more, ultimately saving him.
There are likely so many more Kitchen Witches out there. They're probably my new favorite type of character – the kind that makes the kitchen a little bit sexy, a little bit scary, a little out of control. The kind that makes changes with food. The kind that casts a spell with flavor.
_________________________
Sign up for our newsletter to have the best of Food Riot delivered straight to your inbox every two weeks. No spam. We promise.
To keep up with Food Riot on a daily basis, follow us on Twitter or like us on Facebook. So much tasty goodness–all day, every day.