And lo, the gods of television decided to bring back Arrested Development, and to bring it back all at once by releasing the whole fourth season on Netflix streaming. And it was good.
Put on your Nevernude cutoff shorts, settle onto the couch in the model home, and get ready to spend the day mainlining America's favorite dysfunctional family. The Bluths are back this Sunday, and you're going to need fuel to keep you going.
Start the day like Lucille with a vodka rocks…and a piece of toast.
Not quite that hardcore? Make like Annyong and Buster and go for a juice box instead. Be careful not to pierce it with your hook. And remember, if you let juice sit out overnight, it will turn into alcohol.
Time for protein! Take a pack of mayonnaise, squirt it in your mouth, add an egg, and mmmmmmm. Mayonegg!
For lunch, you should try to have some vegetables, or vegetable-containing substances. Cornballs are great, if you don't mind the burning hot oil and you promise not to sue. Don't have a Cornballer hanging around? Here's a recipe for homemade fried corn balls. 
Midday snack time! You've been watching all day, and you deserve a whole thing of candy beans! I don't know about Michael Bluth, but I'm pretty partial to mix-your-own Jelly Bellys.
Time for lunch! Keep it light with hot ham water (just add some years-old canned ham to a pot and boil), or if you're feeling a little piqued from all the time indoors, go al fresco and have some pool food! Curly fries for everyone!
While you're out and about, you should for sure swing by the boardwalk (or hop on your trusty Segway) and get a Bluth's Original Frozen Banana. (You knew this was coming.)
Banana stands have been popping up all over the place lately, but you can also DIY with this recipe from A Duck's Oven.
And now, for dinner. You can blue yourself:
Or you can Chicken Cordon Bleu yourself. Take a page from Lindsay's book by serving it half-raw, sauced with the water you thawed it out in.
Or you can be a straight-up chicken and get your dance on. Happy binge-viewing!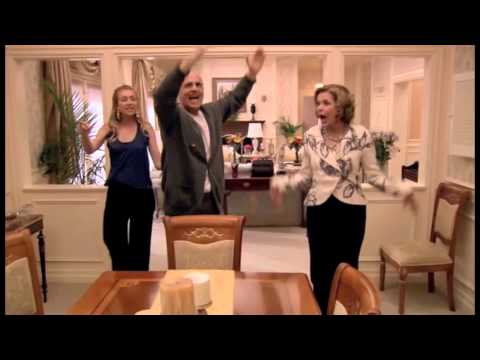 _________________________
Sign up for our newsletter to have the best of Food Riot delivered straight to your inbox every two weeks. No spam. We promise.
To keep up with Food Riot on a daily basis, follow us on Twitter or like us on Facebook. So much tasty goodness–all day, every day.